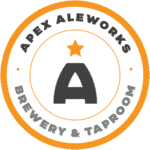 Apex Aleworks Brewery & Taproom is a hidden gem on the Southside of Independence, MO just off Interstate 70 at Exit 12/South Noland Road. In October of 2018, we opened our doors splashing onto the expanding Kansas City craft brewing scene. We offer classic and seasonal local craft beers brewed on site. Explore the flavors and styles with a flight of four. Mix things up with a cocktail or try a Moscow mule created using our delicious house-made ginger beer. Satisfy your appetite with a grilled panini or fresh pizza baked to perfection in our stone oven using our made-from-scratch dough and red sauce. Listen to local musicians perform on the taproom stage. Shop our online store and enjoy your favorite craft beers, pizzas and paninis to go.
Brewery: Our head brewer explores diverse flavor profiles, creating unique beer selections rich in flavor, aroma and mouthfeel. Watch as we brew your favorite craft beers in our 3 Barrel Brewhouse.
Taproom: Choose from our many classic and seasonal craft beer styles while enjoying them in a modern energetic atmosphere.
Website | Facebook| Instagram| Craft Beers On Tap| Twitter 
Apex Aleworks Brewery & Taproom
4356 S Noland Road
Independence, MO 64055
Phone (816) 642-2901
TAPROOM HOURS
Monday CLOSED
Tuesday CLOSED
Wednesday 4PM – 10 PM
Thursday 4PM – 10 PM
Friday 12 PM – 12 AM
Saturday 12 PM – 12 AM
Sunday 12PM – 6 PM