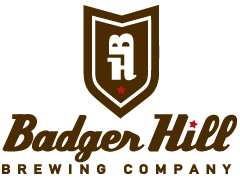 Badger Hill Brewing thinks some of the best things happen over a beer. Friendships begin, ideas are shared, and some of the best stories are told. Heck, their story began over a beer. Broc and Britt met years ago over beer and they eventually gave little brother Brent his first beer (he was 21 of course). And, the three of them met Michael brewing beer. The team of four outgrew the space at Lucid Brewing and now has a new one South of the River, in Shakopee, MN.
Badger Hill Brewing is a group of nice, hard-working, smart, honest and fun individuals, brewing uniquely approachable beers. Mostly American ales, but consider themselves adaptable, so you never know what you may find in the taproom.
Their brews can be found throughout Minnesota in restaurants, bars, and liquor stores. Please ask for it. You can also visit the taproom in Shakopee. 
Badger Hill Brewing produces three year round beers, including Traitor IPA, Goldy Ale Golden Ale and Hop Hill Pale Ale. Their seasonal brews include White IPA, Honey Badger IPA, Foundation Stout and more.
Here's what's on tap at Badger Hill!  Beer list
**Craftapped credits are redeemable for any beer $6 and under**
Taproom hours:
Tuesday through Thursday 3pm – 10pm
Friday and Saturday 12pm – 11pm
Sunday 11:30 am-8pm
Monday Closed
Visit Badger Hill Brewing
Badger Hill Brewing
4571 Valley Industrial Blvd S. #500
Shakopee, MN 55379
(952) 230-2739