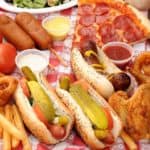 In 2004, the Dubnecay brothers purchased their first restaurant. They built a successful business on 42nd and Hiawatha in South Minneapolis, bringing their hometown favorites to the Twin Cities. Originally named "Chris and Rob's Chicago's Taste Authority" they started with Chicago-Style Hot Dogs, Italian Beef Sandwiches as well as the must-have Maxwell Street Polish. Customers, both Chicago transplants and Minnesota locals, responded with the power of The Windy City and the business grew from there.
In 2016, the restaurant was rebranded simply as "Chicago's Taste Authority" because you can't get more authentic Chicago food anywhere in the Twin Cities.  They also feature many great local craft beers on tap.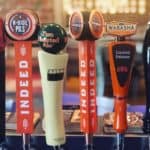 Chicago's Taste Authority is the largest Chicago 100% beef hot dog buyer in Minnesota. They sell 1,500 hot dogs per week, 2,000 pickles, 8 gallons of Nuclear Relish, and 1,200 pounds of Italian Beef for their Cheesy Beef sandwiches per month. Their food is frequently featured in local newspapers, on radio, and on television.   Jason DeRusha, of WCCO-TV's program, "DeRusha Eats", declared the Italian Beef as his favorite in the Twin Cities.
1 free pint with a $7 minimum food purchase and the free pint cannot be over $7 in cost
3101 East 42nd Street
Minneapolis, MN 55406
(612) 729-5507
Hours:
Monday 11:00 AM to 9:00 PM
Tuesday 11:00 AM to 9:00 PM
Wednesday 11:00 AM to 9:00 PM
Thursday 11:00 AM to 9:00 PM
Friday 11:00 AM to 9:00 PM
Saturday 11:00 AM to 9:00 PM
Sunday 11:00 AM to 7:00 PM