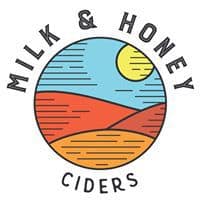 Milk & Honey Ciders produces fine American cider from heirloom and traditional cider apple cultivars. Their farmhouse cidery and orchard focuses on interesting, dry, highly aromatic and tannic ciders made in the rolling hills of Stearns County with minimal intervention. Let the apples shine.
When they spent their past days tucked away in the Stearns County wilderness, they'd tell people venturing to meet them, "If you think you're lost, you're probably going the right way." Those reclusive ways have come to an end, as their new facility has room to stretch, white walls, and a place for visitors just north of St. Joseph, Minnesota. This new home gives them what they need to be creative cider makers, but most importantly, a place to be together with the community. Please stop by, visit and drink some fine ciders. Watch for dogs and children underfoot.
Milk & Honey Ciders are open all year, with each season bringing its unique qualities to the taproom. Winter is cozy, perfect for playing games and sipping cider.  As the ground begins to thaw in spring, come enjoy their two spacious patios while you watch the orchard take shape. During the summer when the days are hot, their cider is crisp and refreshing while the covered patio will keep you cool.
11738 County Road 51
St. Joseph, MN 56374
320-271-3111
Thursday  4pm-10pm
Friday and Saturday  Noon-10pm
Sunday  Noon-6pm