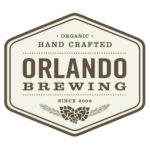 Orlando Brewing first opened its doors on Gore Street just after the turn of the century, and in October of 2004, John Cheek gained ownership of the company. Ed Canty, founder of the Florida Brewer's Guild and professional brewer, joined John to restart the company. With the aid of Gene Lohri Orlando Brewing was soon on its feet. However, less than three months later the team was informed their location was to be turned over to the Florida Department of Transportation under an eminent domain provision.
The year it took to build out the new location gave them time to re-think the direction of their brewery. The partners decided to brew what they wanted to drink, and they wanted to drink the best. So they committed to making only the highest quality ales and lagers. But what did "highest quality" mean? To Orlando Brewing it meant two things for sure. It meant the company would brew their beer in accordance with the German Purity Law of 1516 (the Reinheitsgebot), and that they would only use organic ingredients.
Now, if following the Reinheitsgebot set them apart from their competition, brewing organically made them the polar opposite of the mainstream.
The German Purity Law decreed that beers should only be brewed with four ingredients: water, hops, yeast (discovered by Louis Pasteur in the mid 1800s) and malted barley – no adjuncts and no additives. The purists at Orlando Brewing knew that it takes great ingredients to make great beer, and decided to stick to the time-tested tradition.
It's been over a decade and much has changed. The old brewery downtown is now the South Street exit on I-4. Our beers became the first to be declared 'Fresh from Florida' and in 2006 we were certified as an organic brewery, making us the only U.S.D.A. certified organic brewery east of Colorado. Florida's craft beer industry has since boomed and the organic movement has truly taken root.
Our beers can be found in over 500 locations in Florida and Graeme Lay is now our Brewmaster. And while four times a year he releases a beer that violates the Reinheitsgetbot (though organically brewed and appropriately dubbed "The Violator Series"), Orlando Brewing has maintained the commitment to bring you only the best.
And that's something you can raise a glass to.
Website | Facebook | Instagram
1301 Atlanta Ave
Orlando, FL 32806
Contact (407) 872-1117
MON – THU 3 PM – 9 PM
FRI 3 PM – 10 PM
SAT 1 PM – 10 PM
SUN 1 PM – 9 PM