Rendezvous Brewery opened in the summer of 2020 and is centrally located in the heart of Minnesota's lakes country. We are located 35 minutes north of Brainerd and 45 minutes south of Bemidji. We are halfway between Duluth and Fargo. Hop in the car and come for a visit!
Rendezvous Brewery is located on the Paul Bunyan Trail. We are located across the street from the City Park and Paul Bunyan's sweetheart – Lucette. We have built a space for people to come together and enjoy locally made craft beer. We have a large open tap room with over-sized windows facing the lake, with a party room available for rent. In the summer we have outdoor patio seating, and dogs are welcome on the patio.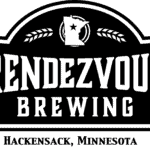 Rendezvous Brewing generally has 10-12 beers on tap, along with kombucha and root beer. You are welcome to bring in food from local restaurants or from home. We sell snacks in the tap room. Branded merchandise is available for sale.
Please check our Facebook page or our website (http://www.rendezvousbrewing.com) for our current hours and beer on tap
Website | Facebook | Instagram 
112 FIRST STREET S
HACKENSACK, MN 56452