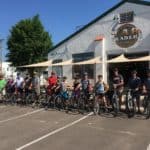 Colorado Spring's Favorite Bar & Tap-House!
Tap Traders is an American restaurant and bar located in beautiful Colorado Springs, CO. With 25+ beers, all made in Colorado, on tap and a host of tasty menu items Tap Traders has something to satisfy anyone and everyone. Whether your looking to try a new local IPA or are in the mood for an exceptional burger, made from only the finest Callicrate beef, Tap Traders is the place for you.
In what was formerly the old Alexander Film Studios building, Tap Traders has built a lively bar & grill that is sure to please. Freshly made food, an exceptional beer list, and friendly service make Tap Traders the go-to spot for tourists and locals alike. Come and spend some time with us today! Tap Traders restaurant and bar is located behind Herring Bank!
Tap Traders
3104 N Nevada Ave 100
Colorado Springs, CO 80907
(719) 434-2954
Business Hours:
Sunday 12:00 Noon – 8:00 PM
Monday 11:00 AM – 10:00 PM
Tuesday 11:00 AM – 10:00 PM
Wednesday 11:00 AM – 10:00 PM
Thursday 11:00 AM – 10:00 PM
Friday 11:00 AM – 11:00 PM
Saturday 11:00 AM – 11:00 PM