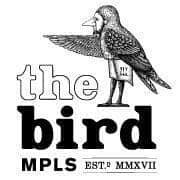 Whether you start your day with a caffeine jolt or a green juice, a rice bowl or eggs and bacon – the bird is here to inspire you to be an early bird!
Get your protein on or get your complex carbs on. Either way, they've got you covered. Get your craft beer on, too – as you'll find a notable selection of brews.
Say hello to their big, sunny room and enjoy your mornings and afternoons with the bird. And if you can't make it while the sun is up, you're more than welcome to give them a call about planning your next party or pop-up! Speaking of, the event space is available daily from 4pm-1am.
And by the way, if weekend brunch is your groove, enjoy bottomless Bloody Marys and Mimosas for $10 with the purchase of brunch. Saturday and Sunday have never felt so good.
1612 Harmon Place
Minneapolis, MN 55403
612-767-9495
Open 7 days a week from 8am-3pm
**Be sure to visit the bird MPLS sibling venues in the metro: Barbette, Book Club, Bryant Lake Bowl, Pat's Tap, Red Stag Supperclub and Tiny Diner – all Craftapped Partner Venues!**