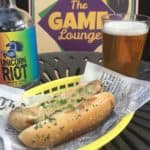 Located in the Park Hill neighborhood, the Game Lounge is Denver's newest, hippest, and funnest (according to Scrabble, "funnest" is a word!) board game-themed restaurant! Excellent chef-created food. Delicious, creative drinks. Tons of board games to play for free as well as outdoor games! Cool music being spun on vinyl. It all happens in an atmosphere that promotes a truly fantastic time for you, your friends and family, and friends you have not yet met!
Website | Facebook |  Beer List
1490 Eudora St
Denver CO 80220
Free Parking after 6:00PM at the Peerless Tire across the street!
Hours
Restaurant Hours
Tuesday – Thursday: 4:00PM – 9:00PM
Friday: 4:00PM – 11:00PM
Saturday: 1:00PM – 11:00PM
Sunday: 1:00PM – 9:00PM
Monday: Closed
Bar Hours
Tuesday – Thursday: 4:00PM – 11:00PM
Friday: 4:00PM – 1:00AM
Saturday: 1:00PM – 1:00AM
Sunday: 1:00PM – 11:00PM
Monday: Closed