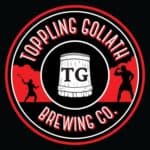 Clark and Barbara Lewey founded Toppling Goliath Brewing Company in 2009 in beautiful Decorah, Iowa after a runaway success in home brewing. In less than a decade, Toppling Goliath has become world-renowned for IPAs and barrel-aged stouts. We now distribute in over 27 states and create more than 40 beers that rotate throughout the year.
Toppling Goliath has been recognized for the quality of its beer by countless festivals and craft beer groups, and has been named the #2 brewery in the world by Beer Advocate. Our barrel-aged stout, Kentucky Brunch Brand Stout, has held the title of #1 beer in the world since 2015.
Large two story taproom featuring a gift shop, fireplace, two bars, views of the brewery and stunning sunsets. Come enjoy a pint or two in this beautiful taproom/brewery.
Craftapped Voucher ***applies to 16oz or 12oz pours only***. 
*barrel-aged beers are not included
Website | Facebook | Instagram
Taproom Hours:
mon-sun: 11 am – 9 pm
kitchen closes at 8 pm
1600 Prosperity Road
Decorah, Iowa 52101