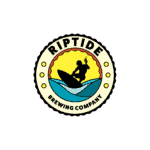 In 2015, a few homebrewing buddies decided to turn their hobby into a profession. For over three years they built the Riptide Brewing Company brand as the only brewery within Naples' city limits. In 2019, however, the friends felt inclined to pursue other passions; They sold the modest brewery to a local family and Riptide Brewing Company has been family-owned ever since.
Following the acquisition, one former brewer returned and became our Head Brewer and Operations Manager. In the fourth quarter of 2020, the brewery found itself looking to grow the business and began building our current team of beer-loving industry veterans from various parts of the country and in January 2021, the brewery canned and released Olde Naples Blonde Ale and Porpoise Party IPA, two of our flagship beers, into the Southwest Florida market.
Good brew, family, friends, community and fun. Life is good at Riptide!
Website | Facebook | Instagram
Riptide Brewing Company
987 3rd Ave N Naples, FL 34102​
Call for Information: (239) 228-6533
Email: [email protected]
Hours
Monday  12:00pm – 11:00pm
Tuesday  12:00pm – 11:00pm
Wednesday  12:00pm – 11:00pm
Thursday  12:00pm – 11:00pm
Friday  12:00pm – 11:00pm
Saturday  12:00pm – 11:00pm
Sunday  12:00pm – 8:00pm