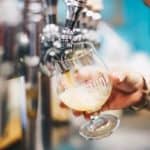 While stationed in Germany, US Army veteran Rich Fierro and his wife Jessica first discovered true craft beer, igniting Jessica's passion for brewing her own Latin-influenced flavors.
Along her brewing journey, Jessica became the first Beerland winner, distributing her winning homebrew recipe, Dona Neta, with Golden Road Brewery.
Rich and Jessica now bring you Atrevida Beer Co., the first Latin-owned brewery in Colorado ran by a female Head Brewer.
Diversity is on tap!
Salud!
Disclaimer: BOGO is not good for any charity beers
Website | Facebook | Instagram
204 Mount View Lane, Suite 3
Colorado Springs, CO 80907
719-266-4200
Hours:
Monday: 1pm-9pm
Tuesday: 1pm-10pm
Wednesday: 1pm-9pm
Thursday: 1pm-10pm
Friday-Saturday: 12pm-10:30pm
Sunday: 1pm-8pm