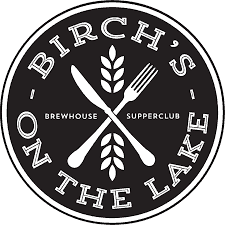 Birch's on the Lake Brewhouse & Supper Club is a one-stop shop for sensational experiences for guests of all kinds. From families looking to grab a bite to eat before a sporting event, to catered private parties for business professionals, the varied menu can satisfy all tastes.
Diners can enjoy spectacular fare, ranging from Wisconsin-style supper club favorites to upscale surf and turf. Guests of the brewhouse can enjoy craft beer creations while looking out over Long Lake. Birch's on the Lake brings a new level of indulgence to any patron. Delicious food. Cold brews. Spectacular views.
The atmosphere at Birch's on the Lake is unmatched by any in the Western suburbs. With a piano lounge that operates on the weekends, guests can enjoy an infusion of Sinatra into their dining experience matched with a classic specialty cocktail, or opt for a more casual evening out with friends in the brewpub. Whatever it may be, Birch's on the Lake can provide it.
Beer List | Menu | Reservations
1310 W. Wayzata Blvd.
Long Lake, MN 55356
952-473-7373
***
For your next special event…
You couldn't ask for a more versatile location.
Birch's on the Lake has space both top and bottom, upstairs on the dining level.
And downstairs on the Brewpub level, with a patio area unmatched anywhere.
From a more formal gathering, to a pack of friends celebrating life, to a business meeting.
All are welcome and will be uniquely satisfied. Because this is a unique venue.
** Click here for more info, or here to email Event Coordinator Nanci Anderson **