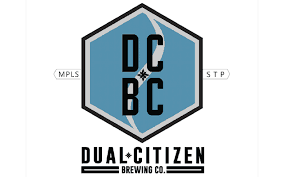 Dual Citizen is a community-focused brewhouse born from a few simple beliefs. An understanding that substance beats trends. A recognition that community roots run the deepest.  The understanding that what unites us is far greater than what divides us.
This is what happens when a European tavern meets Minnesota nice. It's a friendly, approachable spot with a focus on celebrating community roots and developing local pride. So come in, enjoy a pint, further your connection to the community, and gather with friends old, new, and not-yet-met.
They constantly rotate their beers and their events in an effort to give you something new and noteworthy each and every time you come in.
725 Raymond Ave
St Paul, MN 55114
Tuesday through Wednesday  3pm – 10pm
Thursday  3pm – 11pm
Friday  2pm – 12am
Saturday  12pm – 12am
Sunday  12pm – 8pm
Monday  Closed
For your next party or special event…
The Dual Citizen taproom is first-come, first-serve, but it is nice to get a heads up if you're bringing a big group. They also have space you can reserve for private events. Contact them if you're interested.