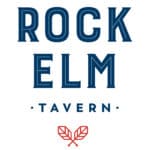 Craft beer fans will delight in what owners Troy Reding and Brad Sorenson have created. First off, a unique beverage program with the finest local and regional craft beers – 30 on tap! Next, Rock Elm is truly a "sub-urban" tavern, which brings the best of the downtown dining experience to the suburbs. Troy and Brad and their families are long-time friends and residents of Plymouth, and when they pondered the idea of bringing an urban tavern and restaurant to the suburbs, their top priorities were pretty basic: unforgettable scratch-made food, great drinks, and fantastic service.
The venue is a sleek and sexy interior of deep wood tones, accented with gold and orange metallic, and just enough rustic flair to honor Rock Elm's tavern heritage. Outdoors on the patio, the seating area is comfortable and spacious.
The kitchen staff creates a flavor-forward menu that appeals to the foodie in us all. Their modern tavern selections truly offer something for everyone, with an especially fresh twist on classic burgers and pub sandwiches.
In addition to the outstanding craft beer curation, you'll find a special selection of fine bourbons (for Troy and Brad) and tasty gins (for their wives!). Just like the beer list and menu, their drinks will also captivate your senses.  Please visit us at our Maple Grove location as well and check out all of our great Happy Hour and Weekly Specials below.
Beer Menu  |  Food Menu |  Happy Hour | Weekly Specials
16605 County Rd 24
Plymouth, MN 55447
763-208-4451
Maple Grove Location:
Beer Menu  |  Food Menu | Happy Hour | Weekly Specials
15641 Grove Circle North
Maple Grove, MN 55369
(763) 205-9784
Hours (both locations)
• Monday: 11 am – 9 pm
• Tuesday: 11 am – 10 pm
• Wednesday: 11 am – 10 pm
• Thursday: 11 am – 10 pm
• Friday: 11 am – 11 pm
• Saturday: 11 am – 11 pm
• Sunday: 10 am – 9 pm
BOGO good anytime with food purchase