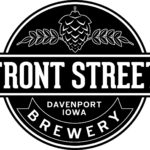 One of Iowa's oldest, continuously operating craft breweries, Front Street Brewery calls the historic Freight House in downtown Davenport, home. Outdoor seating on the beautiful, River-facing boardwalk, gives visitors a view of several, iconic Quad City features; the Mississippi River, Centennial Bridge, LeClaire Park Bandshell and Modern Woodman Park. There's not a better outdoor space in the Quad Cities.
Taproom 421 W River Drive, Davenport, IA 52801 | (563)324-4014
Sunday: 11:00 AM – 9:00 PM Monday – Thursday: 3:00 PM – 9:00 PM Friday: 12:00 PM – 10:00 PM Saturday: 11:00 AM – 10:00 PM
We love dogs, but Scott County is not allowing them on our patios.