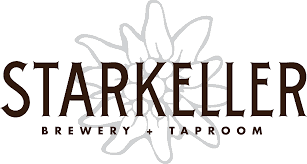 Come check out the Starkeller, Minnesota's first sour-only brewery. Jace Marti, Brewmaster for August Schell Brewing Company, launched the Noble Star Collection in 2013. Due to the nature of sour beer production, it was necessary to build a separate facility away from the original Schell's Brewery. Tin walls went up, and a dream came to life.
The Starkeller Brewery and Taproom is a unique facility, reminiscent of the speakeasies that were so prominent during prohibition. Décor that fills the halls and taproom all has a special meaning – pieces of the brewery that brought the business where it is today. From the bar that is made from an old copper kettle, all the way to the 1936 cypress wood tanks that line the taproom walls, which were originally built inside Schell's brewery. Not only do the tanks provide the magical aesthetic, but they also serve a purpose. In fact, those tanks are fermenting the upcoming beers in the Noble Star Collection.
Enjoy a glass or bottle of the award-winning Berliner Weisse beers. There are often food pairings provided by local chefs that are available for purchase. This is brilliance in beer making, created and served in an intimate space that adds layers to an unforgettable experience.
There is a restriction on Barrel Aged Sours. Your voucher is good for a 4oz pour. If you'd like a full pour there will be a $3 charge.
Regular beer: free w/ voucher
4oz sour : free w/voucher
$3 to get a full sour pour plus your voucher
2215 N. Garden St.
New Ulm, MN 56073
507-359-7827
Open: Friday 4pm-9pm and Saturday 2pm-9pm
*Of course, while visiting The Starkeller in beautiful New Ulm, carve out some additional time to take in a tour at the August Schell Brewing Co.'s historic Main Brewery*