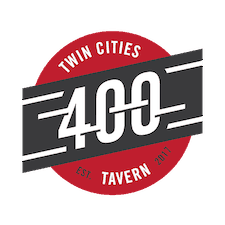 A place you come home to…
Welcome to an independent, family-owned restaurant where visitors and locals alike can savor homegrown hospitality, vitality and natural bounty. Something else the Twin Cities 400 Tavern shares with Minnesota: All it takes is one visit, and you'll want to come back against and again.
How we got our name…
The Twin Cities 400 passenger train changed everything. Hailed by Time magazine as "the fastest on the American continent" when it began service in 1935, the 400 not only linked Minneapolis-St. Paul to Chicago, it became a proud ambassador from the Twin Cities to the world.
That spirit lives in the restaurant and bar that shares its name. Owned and operated by lifelong Minnesotans and third-generation entrepreneurs, the Twin Cities 400 is a come-as-you-are neighborhood tavern that satisfies your appetite and soothes the soul with contemporary tavern fare that celebrates the state we call home.
The Twin Cities 400 Tavern currently has 20 tap beer selections with 7 local Minnesota breweries on tap.
1330 Industrial Blvd. NE
Minneapolis, MN 55413
612-455-6311
@twincities400tavern
Monday through Thursday 6:30am-11pm
Friday through Sunday 7am-11pm